A Potlatch 8 Photo Album
January 22, 1999 through January 24, 1999
These images were taken at Potlatch 8, using my Sony Mavica camera. I took most of them, and a few were taken by other people. The thumbnails here are linked to larger versions. Potlatch is a small, literary convention.
To the second page.
Friday night, January 22, 1999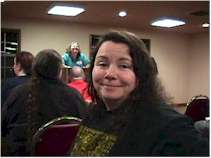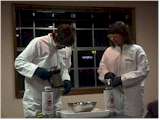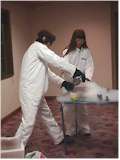 The most striking feature of the opening ceremonies was the demonstration by Jerry Oltion and Kathy Oltion of how to make grapefruit sorbet, using liquid nitrogen. Note the clouds of vapor and the safety equipment.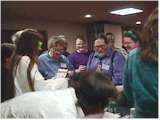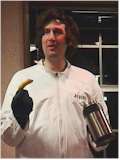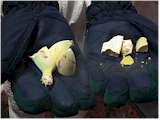 The sorbet was enjoyed by the crowd, and by Jack Bell and myself. As a finale, Jerry froze a banana solid and shattered it.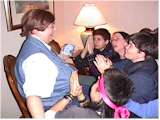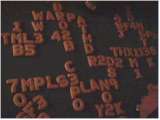 I don't know why the worshipping of Jeanne Gomoll took place, but I'm sure it was well deserved. Another actvitiy in the Con Suite on Friday evening: playing scrabble with cookies.
To the second page.
---
To Anita's Science Fiction and Fandom Page
Written by Anita Rowland, Tuesday, January 26, 1999.
anitar@halcyon.com