Seattle Rhythm Hot Shots Workshop
February 12, 2999 through February 13, 2000
These images were taken at the Rhythm Hot Shots dance workshop, which was sponsored by the Savoy Swing Club and Wise Guy Productions, using my Sony Mavica camera. I took most of them, and a few were taken by other people. The thumbnails here are linked to larger versions. For a more detailed account, see Anita's Book of Days, February 13, 2000.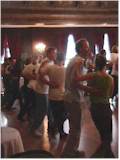 The Saturday morning Lindy 1 class.
Guy Caridi was videotaping during many of the classes.
The classes sat on the floor and watched sometimes, with the instructors on the stage.
Lindy 4 class: Carla doing the Hacksaw. Nancy Fry and Adam Noble -- the green pants made Adam easy to spot. Carla and Greg Singleton.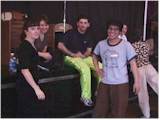 The lindy 4 class learned a very energetic routine Sunday morning. They needed that rest afterwards!
I like this way of stretching; you don't get bored!
I asked Carla to take a few of Ben and me dancing together, so I could be in the pictures, too!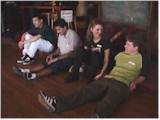 Folks taking a rest between classes.
---
Written by Anita Rowland, Sunday, February 20, 2000.
anitar@halcyon.com